ACELL powder graft is FDA approved to heal wounds and scars from surgery, trauma, cosmetic procedures.
Hair transplant surgeons found the following: ACell GREW HEALTHY HAIR in the SPACES between HAIR PLUGS.
PRP+ACell magnify each other's power to wake up sleeping hair follicles, promote hair growth, and decrease hair loss.
Hair transplant surgeons GROW HAIR IN THE GAPS OF THE HAIR GRAFTS.
BEFORE PICTURES
Platelet Rich Plasma(PRP) with ACell
Scarring from side effect of steroid shots from other provider. Was supposed to grow hair.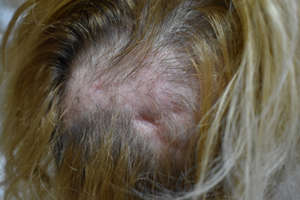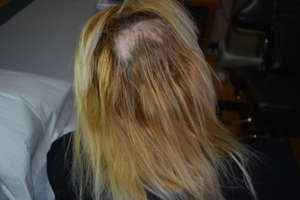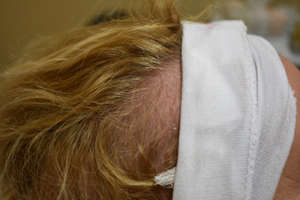 AFTER PICTURES
Platelet Rich Plasma(PRP) with ACell
Results after 5 months! Patient had 2 treatments total!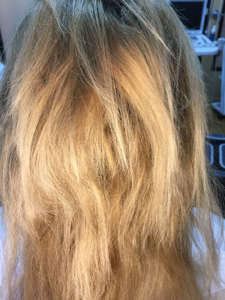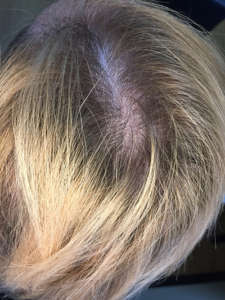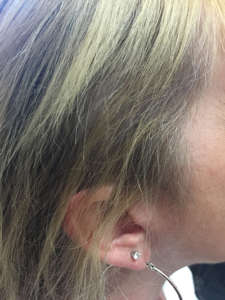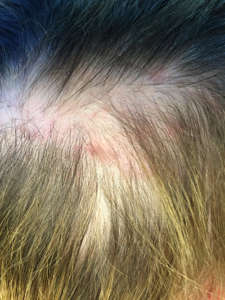 PRP + ACell Treatment 1-2 times a year
Recommend for best results:
2x a year. 2nd treatment 4 to 6 months after first to supercharge the new hair growth.
One treatment is lasting 2 to 3+ years.
For male pattern baldness – Use PRP with ACell
Before and After 2 months – 1 treatment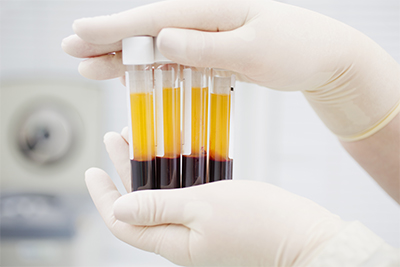 Good candidates for ACell + PRP Injection Therapy are patients not interested in surgery, they want to prevent more hair loss, and are currently experiencing a lot of miniaturized hair. ACell is a non-surgical solution for hair restoration and is not a pharmaceutical or a drug. Structurally, ACell is a biomatrix that repairs and remodels damaged tissue.
In hair restoration, ACell is combined with PRP (platelet rich plasma) and injected into the scalp. The application of ACell + PRP causes miniaturized hair follicles to become healthier and larger, producing more robust hair growth. ACell activates follicular progenitor cells (adult stem cells) and PRP is loaded with growth factors that promote rapid angiogenesis and localized cell growth. Effective for both male and female pattern hair loss, ACell + PRP has also regrown hair in alopecia areata, eyebrow hypotrichosis and other patient cases with non-hereditary hair loss.
An ACell+PRP treatment takes about 90 minutes to complete. First, a blood sample is obtained which is specially processed to produce the PRP. A local anesthetic is then administered to completely numb the scalp treatment area. A sedative can be administered if desired and the patient is not driving. The ACell and PRP are combined and then administered via a series of injections over the full scalp or in a localized treatment area such as the eyebrows or beard.
The recovery from ACell+PRP therapy is typically uneventful. Pain is easily managed in most cases with non-narcotic analgesic medication such as Ibuprofen. Some mild swelling of the forehead is occasionally seen 1-2 days after ACell+PRP injections. This is normal and will resolve in 48 hours. Avoiding vigorous activity is recommended until the swelling is gone. There is no other downtime or noticeable effects of the procedure. Patients can wash their hair normally immediately after the injections.
New hair growth can be seen as early as 2 months, but is typically evident between 4-8 months and will continue to improve up to a year after treatment. To date, results have been maintained without additional injections for up 2 years in many patients, but no long term data is yet available to conclude that ACell induced hair growth is permanent.
How is ACell + PRP applied?
ACell is available in a micronized particulate that the doctor mixes with a PRP concentration. An initial blood draw provides the PRP that is separated and mixed with the ACell so it is suspended in the patient's own platelet rich plasma (PRP). After the scalp is completely numbed, the mixture is injected with a very fine gauge needle in a matrix pattern across the scalp, focused on thinning areas.
ACell+PRP therapy can treat cases of hair loss including:
Male Pattern Hair Loss – especially in the early stages of balding, or anytime there is a lot of miniaturized hair on the scalp
Female Hair Loss – at all stages of hair loss
Hypotrichosis (fine/reduced hairs) of the eyebrows or beard
Alopecia Areata, Alopecia Totalis
Metabolic causes of hair loss – iron deficiency and medication induced hair loss
Results
If you are considering PRP and ACell treatment, you should know that it is difficult to predict how effective this standalone treatment would be for you. Dr. Anderson has found that there is almost always improvement in the right candidate but the result can be small to large in scale and there is not as consistent an outcome as compared with surgical therapies. Those who respond well (which should be evident in a few months) should continue these treatments. Those who respond less ideally should most likely abandon this method of intervention. The frequency of treatment is also tailored to the individual. Someone with progressive hair loss should have more frequent treatments like every few months to twice a year. Those with slow hair loss most likely could have sessions between once a year to once every other year depending on the nature of one's hair-loss progression.
How Many Times is Treatment Needed: The progressive treatment (every few months to twice a year) vs. slow hair loss (yearly).
What to Expect: Simple office procedure, can drive home, and mild swelling.
Using PRP (WITHOUT ACell): Treatment for hair loss is every 2-3 months.
Dr. Anderson will help determine if ACell + PRP is right for you, call to schedule a consultation today!
Watch the Video as seen on Fox News
ACell + PRP Stem Cell
Hair Regrowth Treatment injection therapy
Adult stem cells are used from the patient's own platelet rich plasma or PRP.